Pregnancy and Pediatric Care in Pocatello
Pregnancy Care
Many people don't think of chiropractic care for pregnancy, but in fact, chiropractic is a safe and gentle way to help address common pregnancy discomforts such as sciatic pain and poor sleep. At Johnson Family Chiropractic & Sports Clinic, we are passionate about helping women have the best pregnancy and birth experience possible.
Our Approach
Dr. Johnson is the only local doctor certified in the Webster Technique, a chiropractic analysis and adjusting method that helps ensure the pelvis and sacrum are balanced and positioned correctly. When we help your body stay balanced in this way, it can relieve your discomfort as well as provide more space for your baby to get into the optimal position for birth. Nothing we do "turns" the baby—rather, we just help your body work as it should, so your baby can do what they need to do.
NEW PATIENTS »

We have special tables with a drop-out section to accommodate your growing belly, and many women tell us being able to lie comfortably and safely facedown is the highlight of their day!
Pediatric Care
Being born is a traumatic experience, and most babies are born with some misalignment in their neck as a result. Chiropractic adjustments for babies and kids are completely different from those we do on adults—for infants, it's just a gentle, sustained touch, often using just a pinky finger.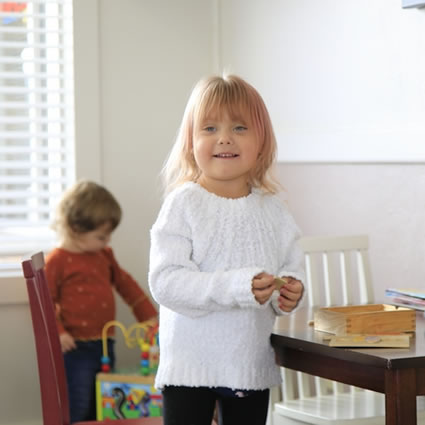 Benefits of Care
Just because something is "common" doesn't mean it's "normal." Many common childhood issues stem from nervous system interference caused by misalignments in the spine. We have great success with many childhood complaints, such as:
Colic
Digestive issues
Ear infections
Latching problems
Poor sleep
Torticollis
As kids get older and start playing sports, they subject their bodies to new types of stresses and injuries. Regular chiropractic care can often help them perform at their highest levels, recover from injury and prevent future injuries.
Get Started Today
It's never too early to begin prenatal or pediatric care! We want to help you and your entire family live your healthiest, best lives.
Contact us today to book your first appointment.

Pregnancy and Pediatric Care Pocatello ID | (208) 234-2225