Pregnancy Chiropractic in Pocatello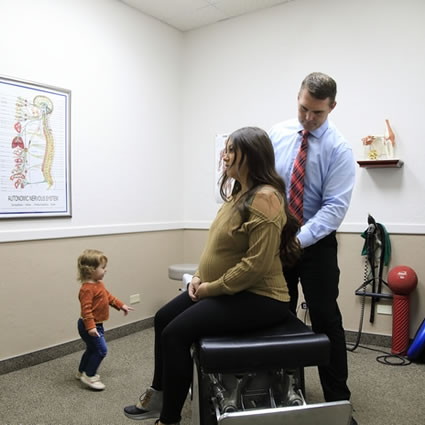 At Johnson Family Chiropractic & Sports Clinic, we're used to having OB-GYNs and midwives refer their patients to us for prenatal chiropractic care. As women's bodies change, we help minimize unnecessary aches and pains so you can have a more comfortable experience of anticipation and joy.
Preparing for a Safer Birth
The hormone relaxin makes your ligaments more flexible, often leading to hip and sacral issues. We help relieve stress from the body so you feel less pain, both while expecting and during labor.
Dr. Johnson is certified in the Webster Technique to help breech babies turn into the head-down position. When your uterus is out of alignment, the baby moves into the wrong position. Vaginal births are better for both the mom and the baby, since they put less pressure on the baby's head. Keeping your sacrum in its proper position decreases your risk of a C-section or traumatic delivery.
Making Every Trimester Comfortable
We have a special table where the stomach drops out, allowing you to lie face-down. We can use whichever adjusting style you find most comfortable so you walk out feeling better every time.
For most patients, we recommend a tune-up once every four to six weeks. Weekly appointments are ideal in the last trimester so we can make sure you're ready for a healthy delivery.
Postpartum Care for Moms and Babies
We also offer postnatal care. Dr. Johnson adjusted his son within one hour of birth. Nurses were about to take the baby to the NICU, since his temperature wouldn't go up. Dr. Johnson corrected a neck misalignment, and the baby's temperature improved almost immediately.
Moms should also get checked out as soon as possible. As your body stops producing relaxin, your ligaments tighten up. It's essential to be in proper alignment when this happens to prevent chronic conditions.
New moms are also prone to poor posture, since they're constantly leaning forward to hold the baby, nurse, or move a car seat. We'll help correct rounded shoulders or a forward neck to minimize pain.

Pregnancy Chiropractic in Pocatello ID | (208) 234-2225