Chiropractic Care
Chiropractic care is a natural, drug-free approach to health care that addresses musculoskeletal conditions as they relate to the nervous system. At Johnson Family Chiropractic & Sports Clinic, our approach is to locate the underlying cause of your symptoms and devise a care plan that is tailored to help you reach your unique goals.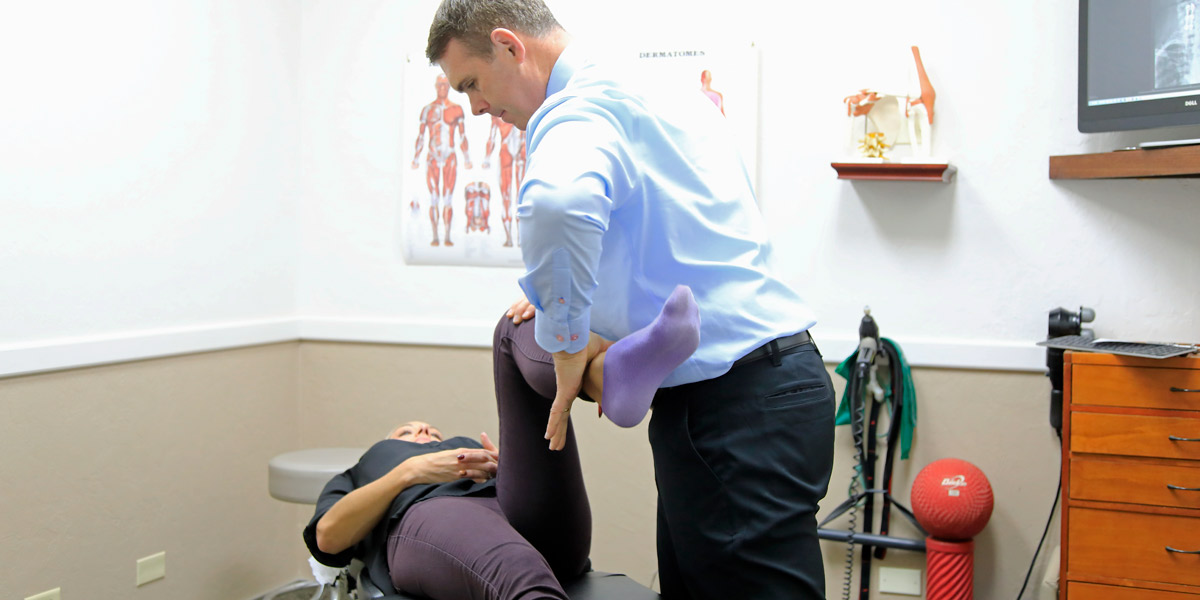 Our Approach to Care
We are a true family practice, providing care for moms before, during and after pregnancy; for kids from newborns on up; and for athletes from elementary school to weekend warriors to pros. Dr. Johnson has over 20 years' experience helping people get out of pain, function better and achieve their optimal level of health.
He is certified in the Webster Technique, which helps restore balance and alignment to the sacrum and pelvis in pregnant women. Dr. Johnson is also the only Certified Chiropractic Extremity Practitioner in the area, and we see many patients with extremity problems—particularly athletes.
In addition to custom chiropractic care, we offer a range of therapeutic services. Some of our therapies include:
Cold or hot laser therapy
Kinesio taping
Massage therapy
Orthotics
Nutrition counseling
Rehab exercises
Spinal decompression
Ultrasound
E-stim
Conditions We May Help With
We have a great track record with a wide range of musculoskeletal conditions, such as:
Ankle injuries
Golfer's/tennis elbow
Knee injuries
Neck pain
Sciatic pain
Posture problems
Pregnancy discomfort
Nerve pain
Back pain
Shoulder injuries
Wrist injuries
Scoliosis
We also help with many common childhood issues, including:
Benefits of Care
Our goal is to help you get back to doing the things you love to do, without limits. Many of our patients experience pain relief, increased range of motion and improved overall function
When your joints are properly aligned, your body can move as it is supposed to, reducing wear and tear that can be caused by poor biomechanics.
Schedule Care Today
We meet you where you are in terms of healing: whether you want pain relief or long-term maintenance care, we will create a plan that works for you. Contact us today to book an appointment.

Chiropractic Care | (208) 234-2225